Xplor Education needed branding created from scratch. Their mission statement reads, "We partner with America's most innovative companies to provide distinctive Montessori early childhood education that leads to more capable individuals, happier families, healthier organizations, and stronger communities." This sentiment needed a name, logo, branding guidelines, and marketing strategy that would communicate their brand and vision and help make them more visible to the families who would potentially attend their school.
Each of our branding projects is a little different, but, regardless of the client, there are some things that stay consistent.
We need to really get to know the ins and outs of the client's brand vision, understand what they need to accomplish through their branding and marketing strategy, and find out what their bigger vision is for the future of their organization.
Years of Experience in the Education Industry
VDS has a deeply rooted history with the education industry. Our work has primarily focused on higher and secondary education in the past, but we are excited to be expanding our capabilities into early childhood education as well. Here are some of the branding and marketing materials that we created for Xplor Education and Discovery—the collaboration between Xplor Education and a Southern California aerospace company.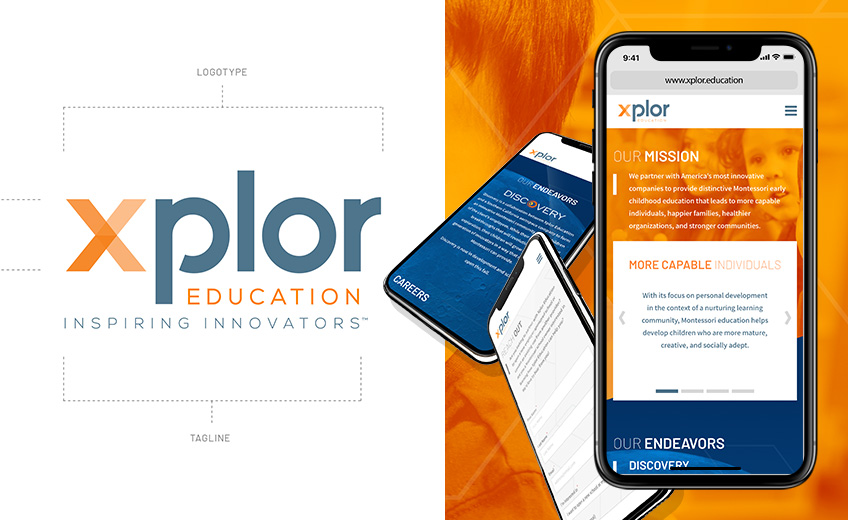 Branding, Logo Design, and Tagline Creation
Our creative team has the knowledge, education, and experience to create a high-quality logo that will stand the test of time. That's exactly what we produced for the Xplor logo. After presenting a few options to the client, this was selected as the final product. Our team conducted naming and tagline exercises to come up with a concise tagline that encapsulates the brand and is memorable to the reader. "Inspiring Innovators" was a great choice in this case, because it includes all the different ages and grade levels that Xplor Education has the potential to have an impact on.
Mobile-Friendly Design
The fact is that people are viewing online content via their mobile devices more than on desktop. The Xplor website was designed with UI/UX that is friendly both on a desktop and on mobile. The better the experience families have with the potential to enroll or fill out a contact form, the more likely they are to take action.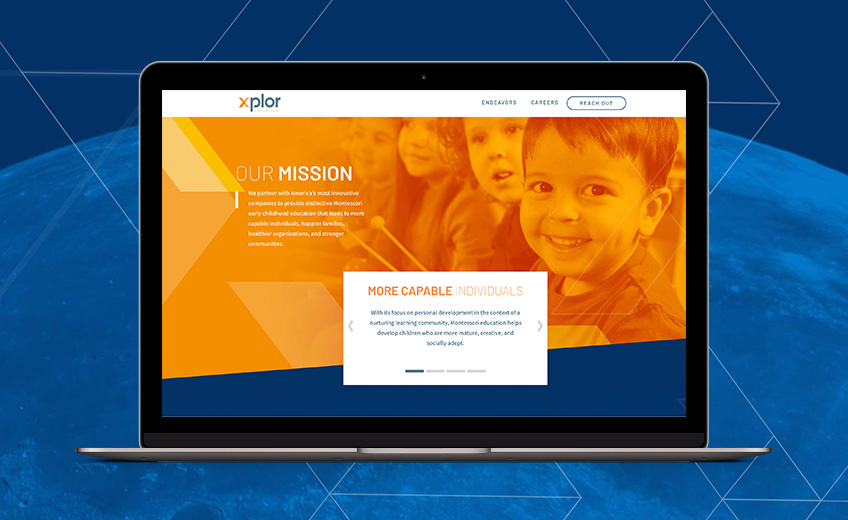 UX/UI Website Design
VDS elevated the concept, copy, and photography that the client provided us and created a website that accomplished the task at hand. Not only is the design very attractive to look at, but it's also easy to navigate—and resulted in a successful launch. The goal of the site initially was to get families to sign up for an information session about the Montessori school and its programs, and the sessions did indeed fill up.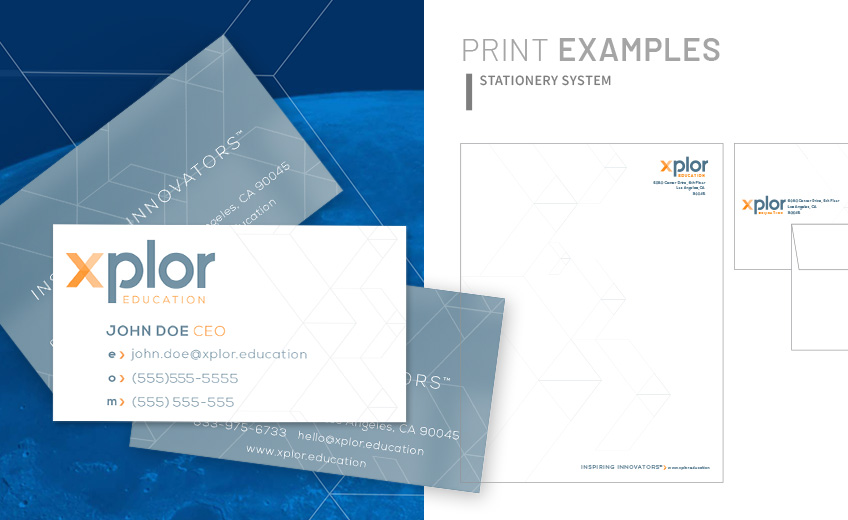 Customized Business Cards and Stationery System
In order to extend beyond a digital reach and assure that the brand identity reaches all points of communication, we designed business cards and stationery. Because the school is just starting out, it will be doing a lot of networking in the upcoming months and years to really launch their brand. High-quality business cards and stationery give the brand a very polished and respectable look so that whoever gets them will know that Xplor is doing something very special with its schools.
Branding with Vision Design Studio
If you or your company are looking for a solution to your branding needs, we would love to help. As part of our process, we will ask a lot of questions to really get to know the ins and outs of your business and goals and come up with a brand, logo, look, and voice that will resonate with your ideal customer. Our brands get recognized and grow into successful companies. Learn more about us, check out our work on our website, and contact us to set up a meeting to learn more about our services.