When marketing for the beauty industry, the bar for trending, quality design is set at an all-time high. Our email marketing campaigns are all visually stunning and carefully crafted using a strategy that reaches our clients' target audience–either customers or fellow industry professionals–in a way that gets them noticed and leaves an impact on the viewer.
Email Marketing Only Works When People Open the Emails
Accessibility is one of the most important parts of a successful email marketing campaign. A majority of people will open up an email for the first time on their phone, so it's extremely important that our email designs look great and are easy to navigate whether they are opened and read on a mobile device, tablet, or desktop. CTA buttons in emails are another very important aspect, since clicking on them usually means that the reader is going to visit a website to learn more about or purchase a product, RSVP for an event, etc. Both the design and copy for our CTA buttons are engineered to get the most clicks possible.
During the initial design process of a new email campaign, we will take a look at the previous campaign's analytics to see where people are clicking. Is it a big bold button they click on? Is it a link within the text? These all have an impact on how we decide what our CTAs will say and look like.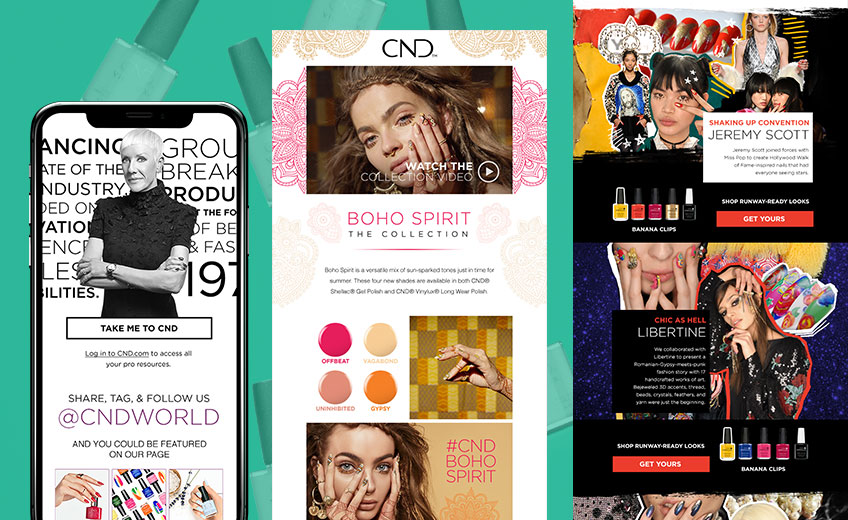 Communication between our account executives and clients is one of the most important parts of having a successful campaign that also meets the launch deadline.
Sometimes the turnarounds can be fast and furious in the beauty industry, so staying organized and on top of correspondence is very important. Our account managers take the stress out of the jobs of both the client and our creative team by keeping all assets organized and making sure that the new product or line is introduced correctly to customers.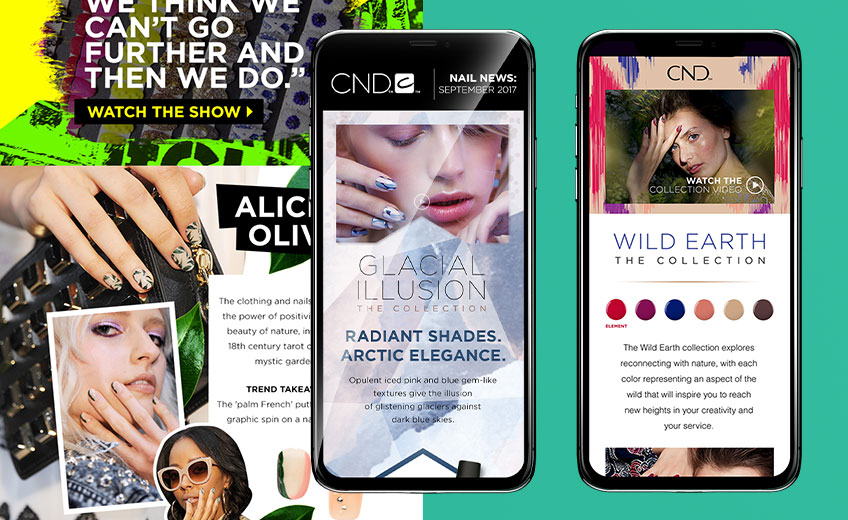 Having a cohesive brand identity throughout all of the seasons can be a challenge, but is very important so that the viewer isn't confused about what they are looking at or who the email is coming from.
CND, for example, releases new shades every season, so while the person who gets the email hasn't seen them before, and the brand wants to come across fresh and unique, they still need to maintain their identity as CND. We use variety in our design and copy while keeping the overall look, feel, voice, and tone of the brand consistent.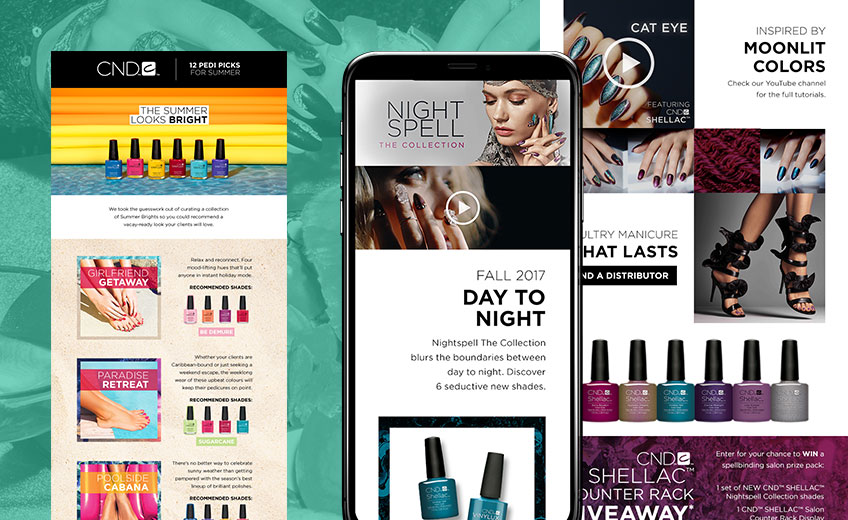 The projects we get to work on with our beauty industry clients are some of our favorites.
We love the ability to have fun with the copy and design, come up with interesting campaign concepts that complement each season, and present the results that we achieve to our clients. Between the new product launches, big conventions, exciting contests, and generous giveaways, there's always something exciting to spread the word about in the beauty industry. Our email marketing campaigns allow our clients to reach the people who need to hear what they have to say the most.