The Art Institutes came to us with a need for special event promotion. They were holding a College Preview event across multiple campuses specifically for the high school audience. They wanted collateral that spoke to that audience and would stand out among the plethora of other college recruiting materials that students start getting during this time of their high school careers.
Event Marketing Strategy that Makes People RSVP
Our design team came up with copy that spoke the high school student language, including hashtags of course, and three different design mock-ups to pitch to them. The concept that each design followed was "Mastering Your Passion," and this hand-lettering/sketch style is the one they chose. What they ended up with was a beautifully designed campaign that attracted new potential students and resulted in a very successful event across multiple campuses.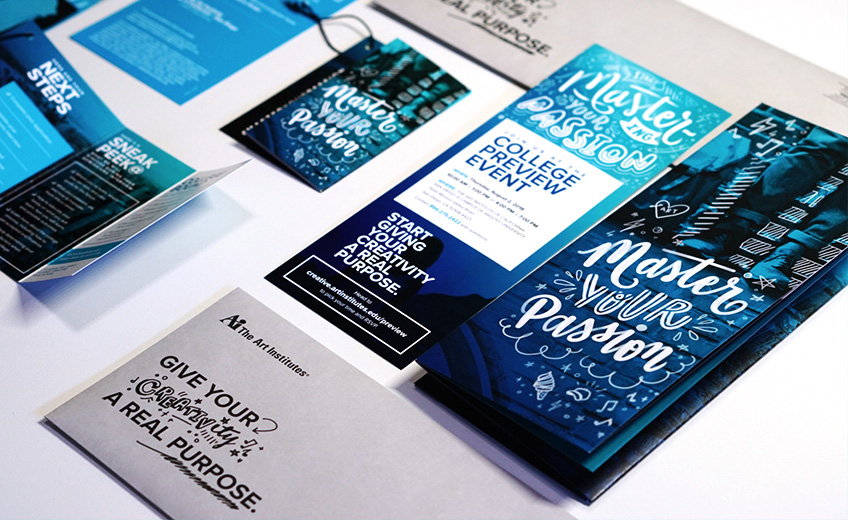 Unique and Creative Direct Mail Piece
The first exposure to this campaign that students saw was this beautifully designed mailer that unfolded into an oversized poster with an inspirational message on it, to support the "Master Your Passion" theme of the campaign. The idea is to have a poster the high school students will love so much that they will put it up on their walls–again keeping The Art Institutes at the top of mind. We also included an insert with specific details to clearly communicate that they are invited to a special event at The Art Institutes and the action steps they can take next to attend. Even the envelope got extra love with custom design and hand lettering. This attention to detail is what makes a successful mailer. If someone gets a plain ol' envelope in the mail that looks like an ad, they are going to throw it out. Even the size and shape of the envelope were strategically chosen to make it stand out in a stack of mail.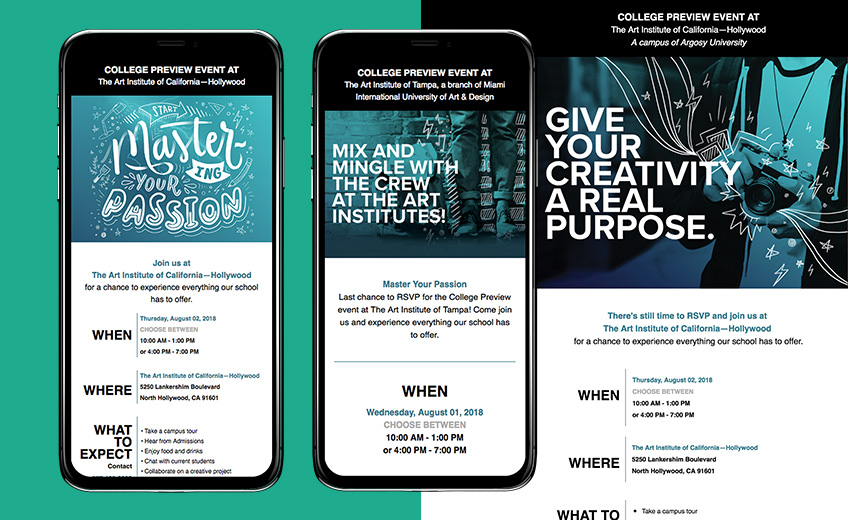 The Digital Play on Event Marketing
An email campaign was launched along with the direct mail pieces to get more eyes on the event. The voice and tone of the writing stayed consistent with the poster copy, and the look and feel were all integrated as well. We wanted the user experience to be very easy and wanted the email communication to be "scannable" and easy for people to read. The goal is to have a person RSVP by having to interpret as little information as possible. They get the "when and where" first, followed by some quick bullet points of what they will do at the event, and that's pretty much it. We segment our audience by sending emails based on whether or not they have taken action yet. This is how we know that our messaging makes sense to the person who receives it. Students who already RSVP-ed yes won't get another email telling them to RSVP. They will get one saying how excited we are to see them at the event!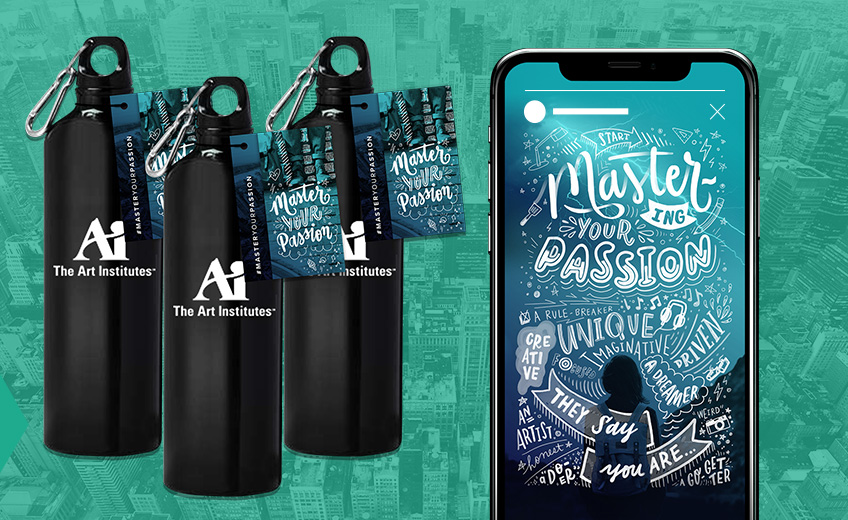 Fun Giveaways and Animated Social Media Design
We know our audience, and we know that high school students are on their phones a lot. We took that beautiful poster design and animated it for Instagram. This animation was featured in The Art Institute story leading up to the event to promote it further. Social media integration is a key element to most advertising and marketing campaigns, and we pride ourselves on making our posts extra beautiful and strategic.
Once the day of the event finally arrived, we wanted to make sure that students had a positive experience and would ultimately end up enrolling in a program. We designed branded water bottles as a giveaway item, and on them was a tag that illustrated the "next steps" a student would take in order to enroll. We touched on financial aid, student life, and other FAQ items that high school students usually have about enrolling.
A Successful Campus Event Means Enrollment
Not only did these events result in students enrolling, but they also opened a creative window with our client for future campaigns. They loved the creative so much that they are using it as inspiration for future messaging to high school students specifically. We are proud of the work we have done and glad to see that our strategy and execution paid off in measurable results for The Art Institutes.