Located on Naples Island, right next to Belmont Shore in Long Beach, California, Chianina Steakhouse was a brand-new restaurant concept opening up in the community and needed branding and marketing materials to reflect its philosophy and fine dining approach.
We created everything from a logo to menu designs, and we continue to spearhead the restaurant's email marketing design, development, and strategies. Here are some examples of the work we created to help launch Chianina into its very successful tenure as a dining destination for foodies all over Southern California.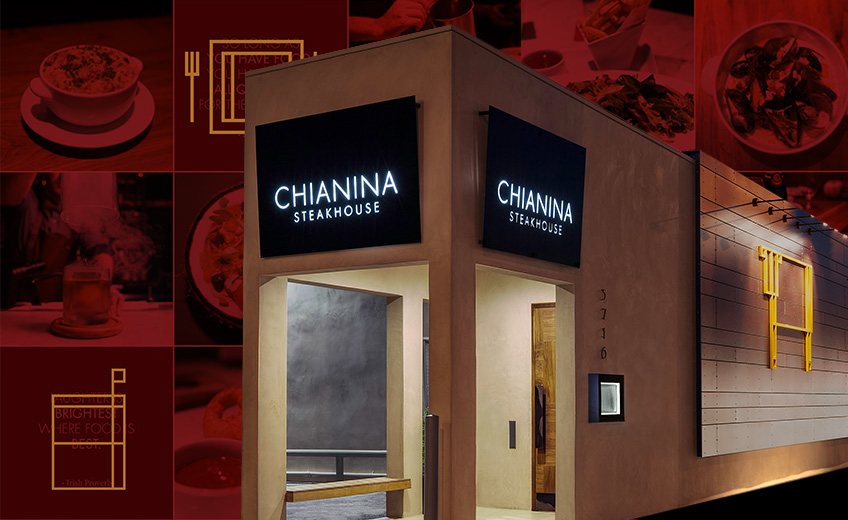 In order to create the experience that the owners were striving for, the restaurant space for Chianina needed a complete transformation. The interior and exterior were entirely redesigned. We created a new and modern logo, inspired by the artist Piet Mondrian, to give Chianina a sleek and classy identity. Using a san serif typography treatment for the exterior signage compliments the clean lines of the logo as well.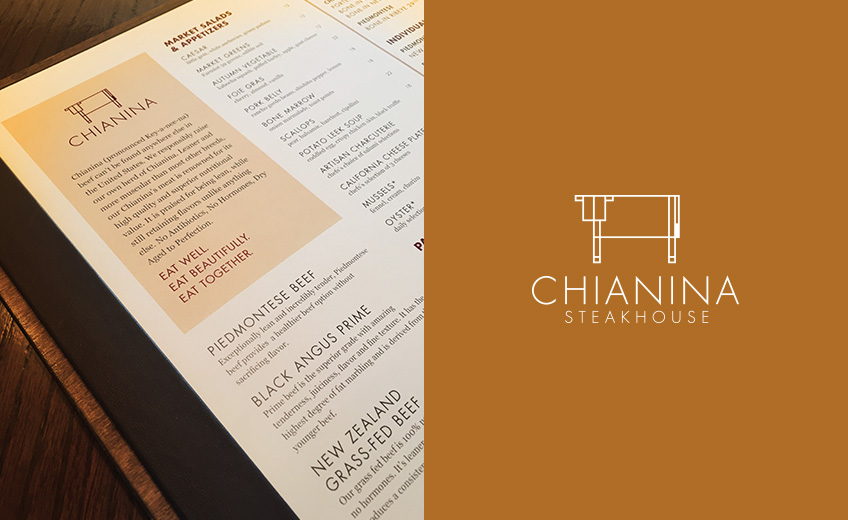 Chianina's philosophy revolves around a shared dining experience with its signature steak, the Bistecca alla Fiorentina, as the centerpiece. Guests can order larger cuts of the steak for the whole table to share or choose individual cuts. Many of the side dishes are meant to be served family style as well. Because of all these different options, it's important that the menu is designed in such a way that makes it easy for the diner to navigate. We chose the earthy color palette of the menu to complement the natural elements of the interior of the dining room, too.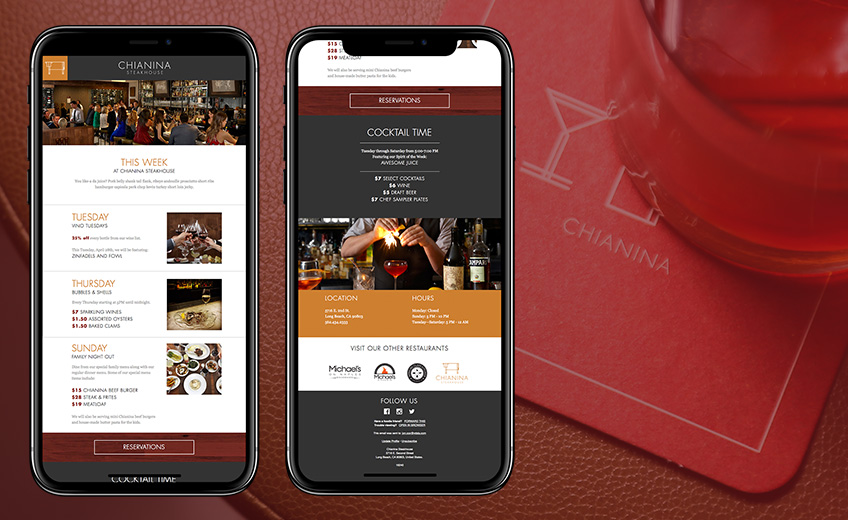 Now that the restaurant was looking amazing and the menu was on point, we obviously want to get people in the door. This is where a strong email marketing strategy comes into play. Our team not only designs and develops beautiful email marketing campaigns for Chianina, but we also strategize who they are being sent to and at what time. Emails are only effective when they are sent to people who are likely to open them–and likely to take an action from them. Our years of experience in the hospitality industry allow us to reach the right people at the right time.
An amazing product, quality service, and the right branding and marketing have all served Chianina very well over the years. The business has been named one of the best steakhouses in Los Angeles and is very highly rated on Zagat. If you are looking for an agency that is skilled in the hospitality industry to launch a new brand or bring new life into an existing one, we would love to talk. Learn more about us, and let's come up with a plan that will take your business to the next level.