When a client's mission includes improving the lives of both dolphins and children with special needs, helping them doesn't feel like "work" anymore. Island Dolphin Care's team came to us with an out-of-date website that was not helping them achieve their goals and accomplish their mission. It was our job to take the content they had, reorganize it, and make it user-friendly, easy to navigate, and fully integrated with email correspondence.
VDS was recently tasked with helping one of our favorite non-profits work toward accomplishing its mission with a brand-new website.
The Story of Island Dolphin Care
In 1990, Deena and Peter Hoagland brought their son Joe to swim with dolphins to encourage Joe to use the left side of his body, which had been weakened at the age of 3 during his third open-heart surgery by a stroke.
Joe quickly bonded with a dolphin named Fonzie. Joe's mother saw his enthusiasm toward Fonzie and started practicing therapeutic exercises where Joe would interact with Fonzie. Together, a powerful bond formed that would drive Joe to a full recovery.
Deena Hoagland, a licensed clinical social worker and teacher, thought that, if dolphins could motivate and encourage her son, they could do the same for other families. Out of this experience, a unique form of animal-assisted therapy was created, and Island Dolphin Care (IDC) incorporated in 1997 as a not-for-profit organization.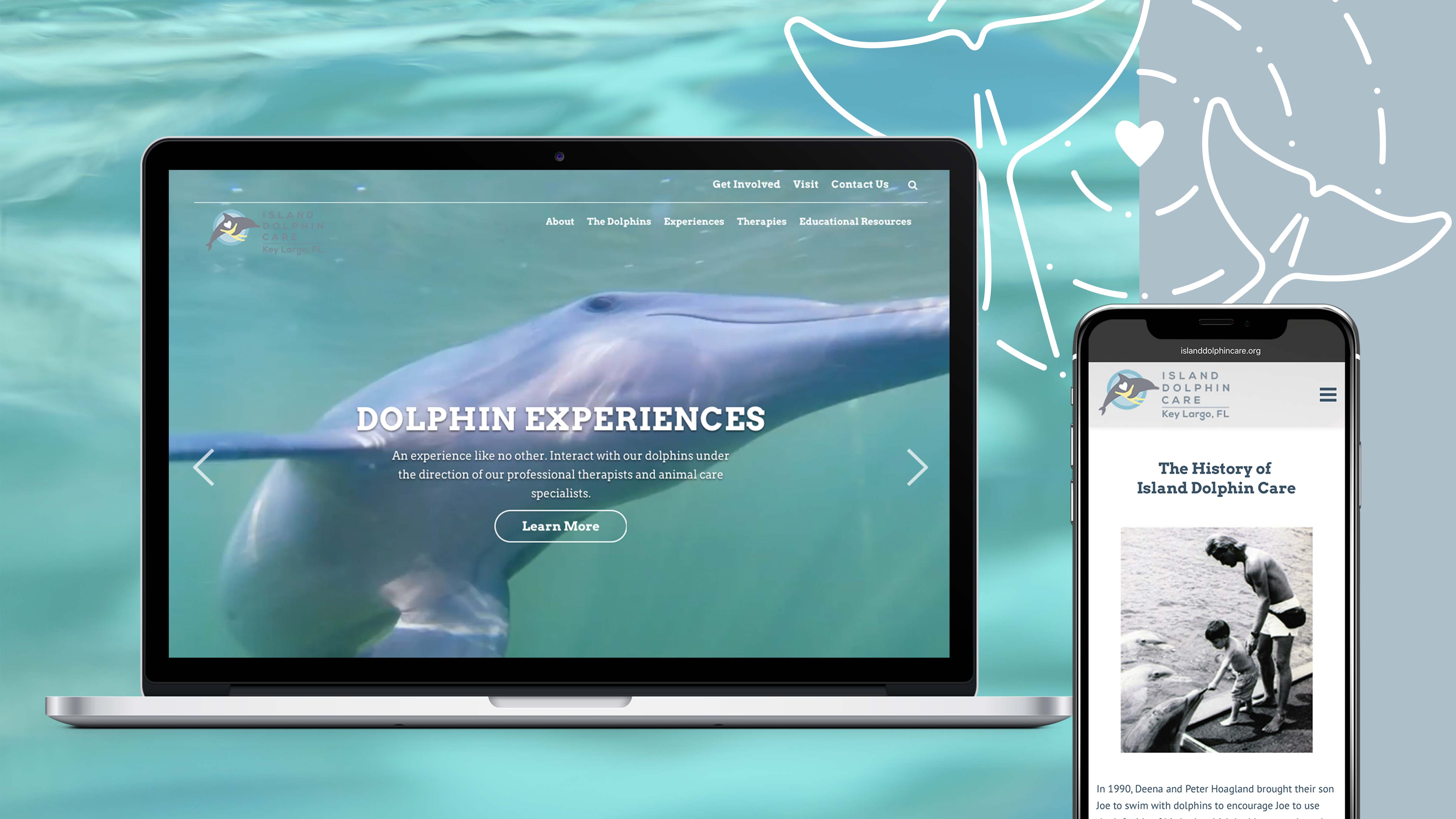 Sitemap Revision
We took IDC's existing sitemap to see what was working and what wasn't and moved some things around so it made more sense and was easier for the user to navigate. This meant moving around some pages, eliminating others, and creating new ones when necessary.
Content Audit
Everything about IDC has been a labor of love, which was evident in how most of the website was written and how the content was organized. The founders are so passionate about the service that IDC provides that they included a lot of content, information, and back-story on most of the website pages. Our team was able to streamline that content and, without losing any of its value, move things around and streamline the site. Now, someone can read it without getting overwhelmed or confused.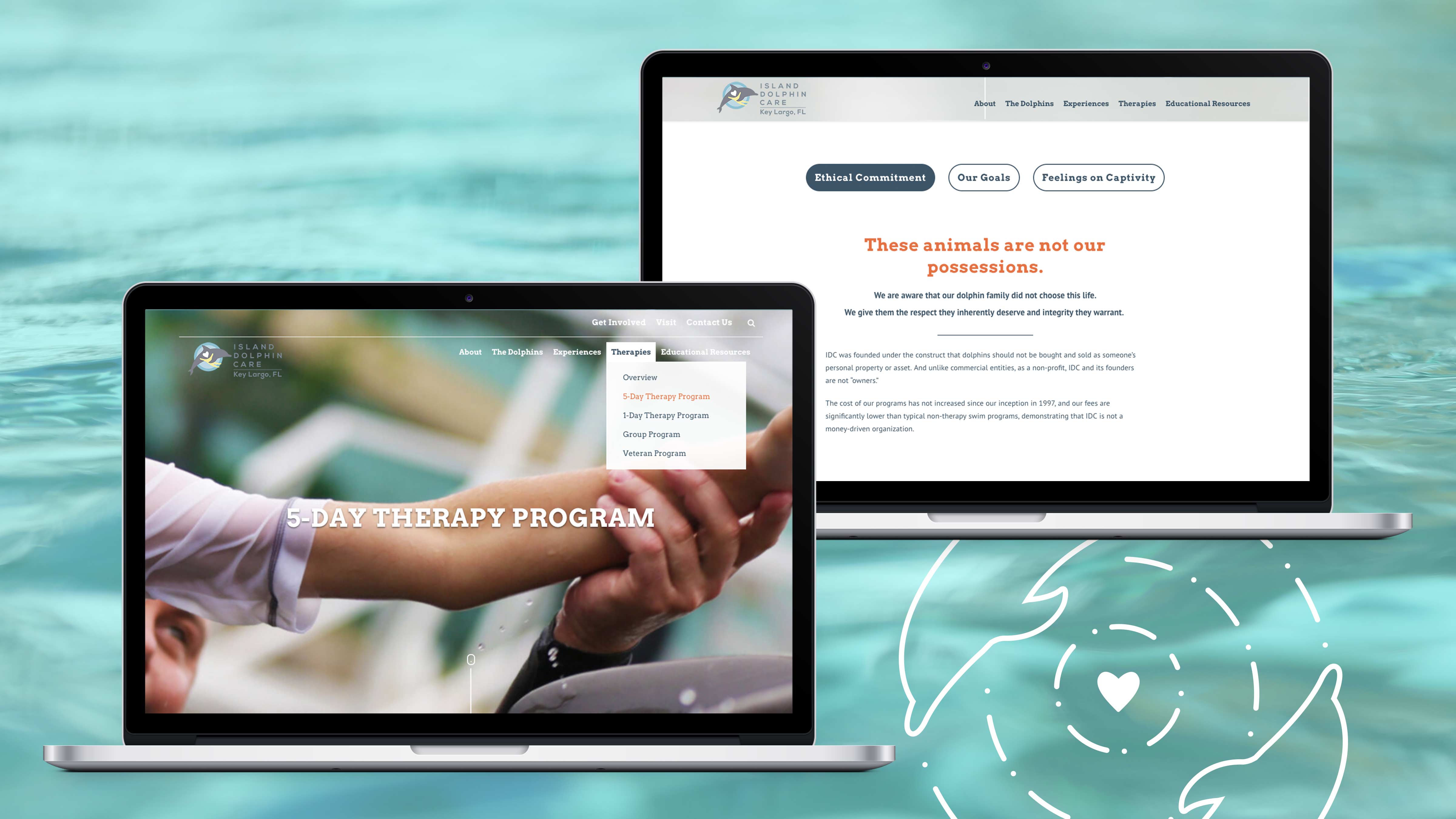 Wireframes & Content Strategy
This is where the look and feel of the website really begins. We put together wireframes for the homepage and secondary pages so that, when it was time for the design, there would be a cohesive aesthetic. Wireframes are also where content strategy comes into play. The hierarchy of the page, where forms go, where CTA buttons go, what social media to link to, etc., are all part of the larger content strategy for their online presence.
UX/UI Design
Colors, fonts, and photography really made this website come alive, and that was thanks to our design team. We always put ourselves in the shoes of viewers and make design choices based on them having a positive experience and interaction with our websites. The high-quality photography and natural color palette help to differentiate IDC from other local dolphin-related organizations.
Logo Design
Much like the content on the website, the logo needed some updating. By making some subtle changes to the shape of the dolphin and using new colors, we were able to launch the new website with a new and updated logo that represents IDC more accurately.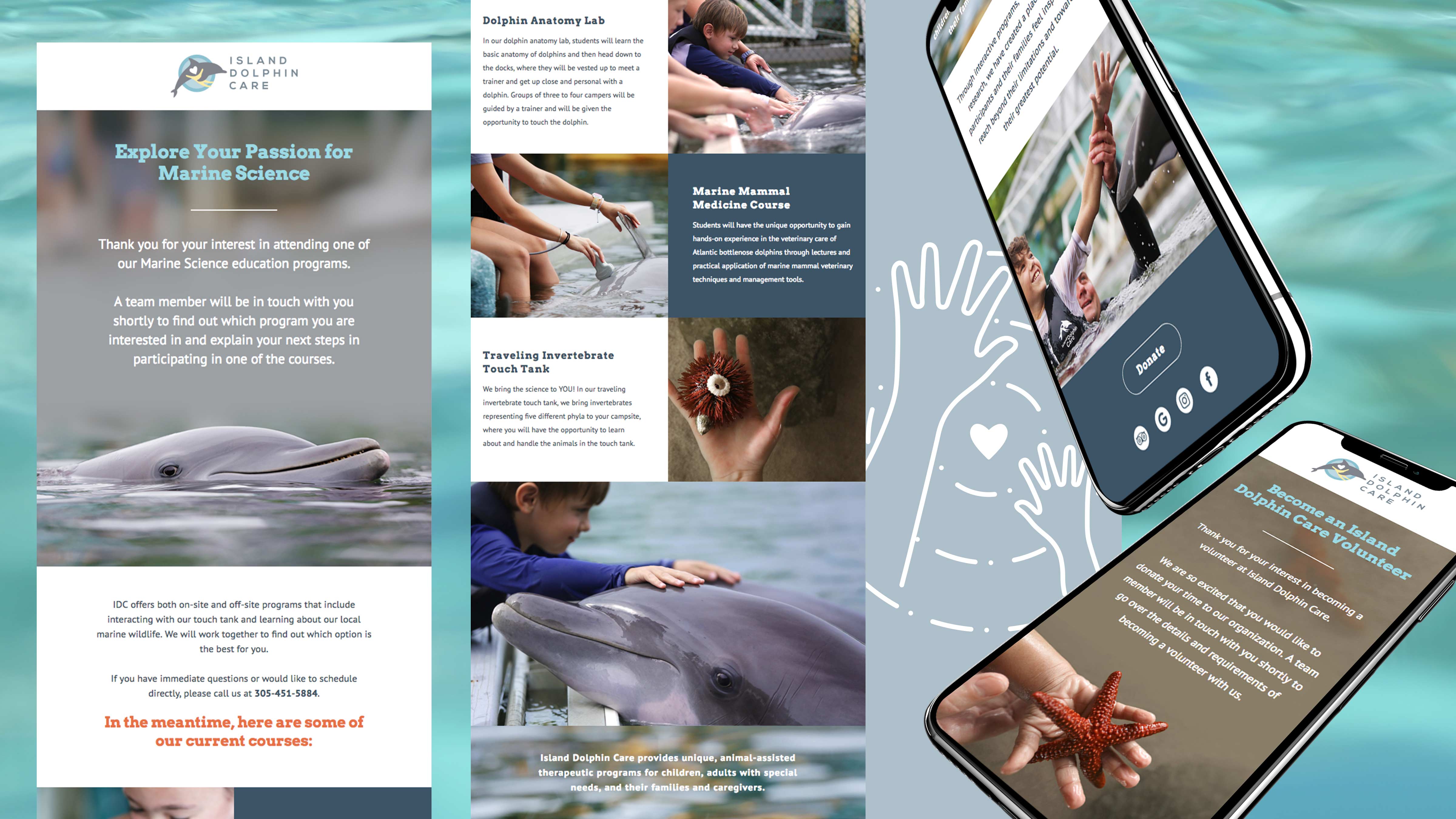 Email Integration
There are many reasons people contact IDC, and we wanted to create email correspondence for each of these audiences. Depending on how a person shows interest in IDC, that person will get a different email response that is automatically sent. The emails were written and designed using our UI/UX principles and are intended to provide the user with a positive experience and make it easy and convenient to interact.
Maintenance and Support
Now that the website is launched, our team is actively making sure that everything is functioning as it should. If IDC has a question or concern, we are more than happy to help.
Head over to the Island Dolphin Care website and check out the beautiful new site while learning all about IDC's amazing mission and the different therapies they offer.