It's safe to say that VDS is not scared of change. Aside from working with new clients and projects, we decided it was time for some remodeling, too.
What Used to Be
VDS hasn't always been in our current Long Beach location. We started out in a small office space in Sunset Beach that held about 6 employees comfortably. After squeezing a few extra people in, we finally accepted the fact that we outgrew the space and moved to Long Beach. Eventually, we outgrew our new Long Beach location as well, so the creative team moved over to the adjacent annex for more space. But, ultimately, we decided what works best is to keep all of us together–no matter how big or small we get. We brought the creative team back in the fold to feel more united with the rest of the team. In that same spirit of collaboration, the idea for the renovation was born.
Why We Decided to Renovate
We decided to do this remodel to create an environment that helps the whole team thrive–literally taking down walls and removing the feeling of "departments." The idea is that we are all one team, and good ideas can come from anyone regardless of "role" or "department." All VDS employees are incredibly talented in their roles, but they have more to offer than what their job titles dictate. By bringing us all closer together, it's bringing more opportunity to jump in with ideas on projects that people otherwise wouldn't even have been aware of. Maybe a developer has an idea about how a design can function on a site, or maybe an account manager has some client insight that will help the creative team solve a problem. Having an open workspace here at VDS is an opportunity to take the creative and results-driven work we do for our clients to the next level.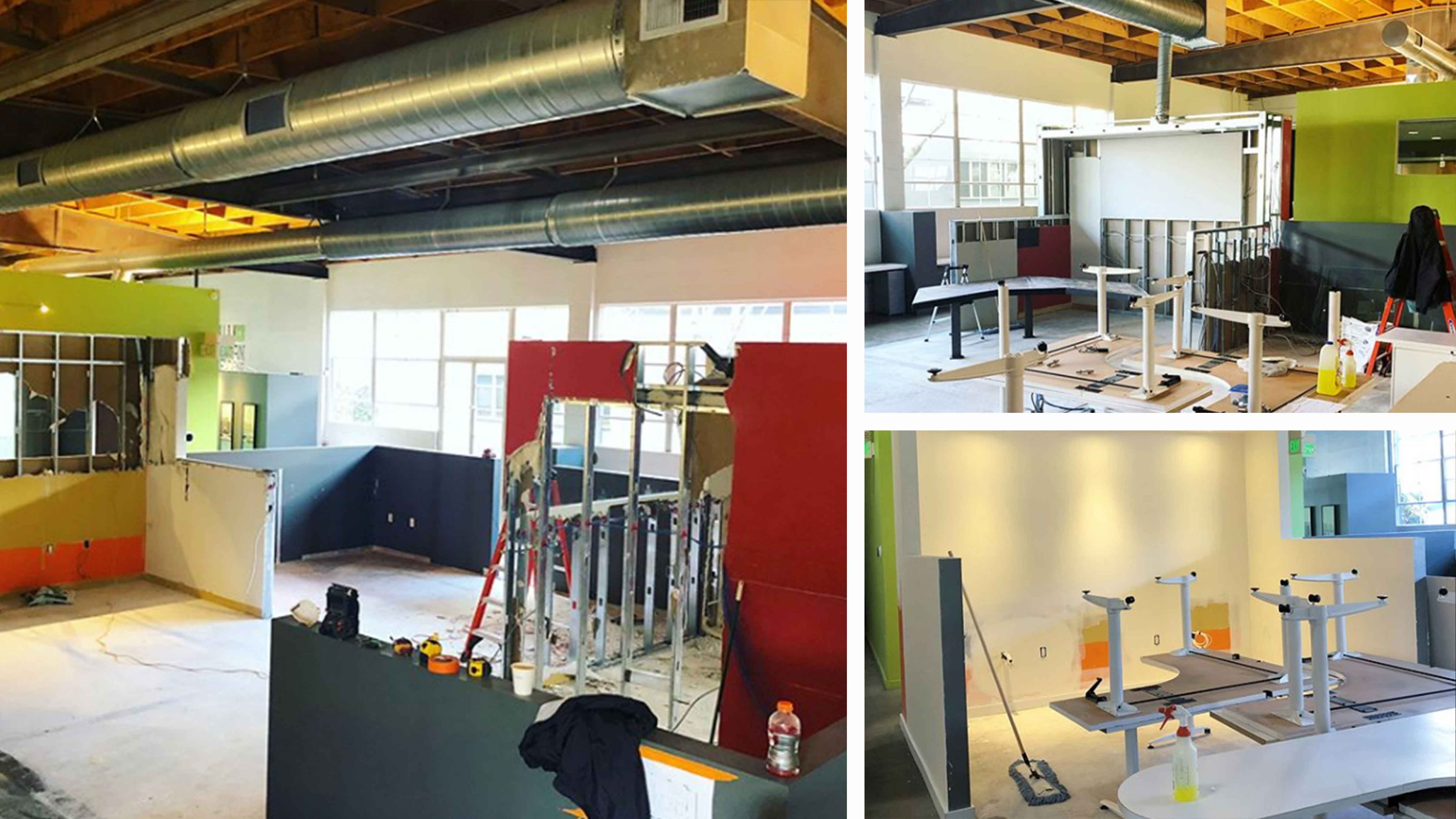 Time to Start Construction
The construction of our new workspace came in fast and furious, and we kept right on working through all of it. Crews came in to tear down walls from the old freestanding offices, install new electrical, put up new drywall, lay down new carpet, hang new artwork, and paint a brand-new whiteboard wall. Then, after construction was over and the dust settled, all of the desks got set up, and we chose our new workstations.
Our New and Shiny Open Workspace
The remodel has made a really positive change in the look and feel of the office. It's convenient for people to have quick stand-ups and regroup meetings right by their desks. The whiteboard is being put to good use for brainstorming. No one even has to get up from their seat for company meetings (except Carl), and people are speaking up with their ideas even if it's not about a project in "their department." So far the change has been very well received, and we're looking forward to the inspired work that everyone will be creating in collaboration with each other moving forward.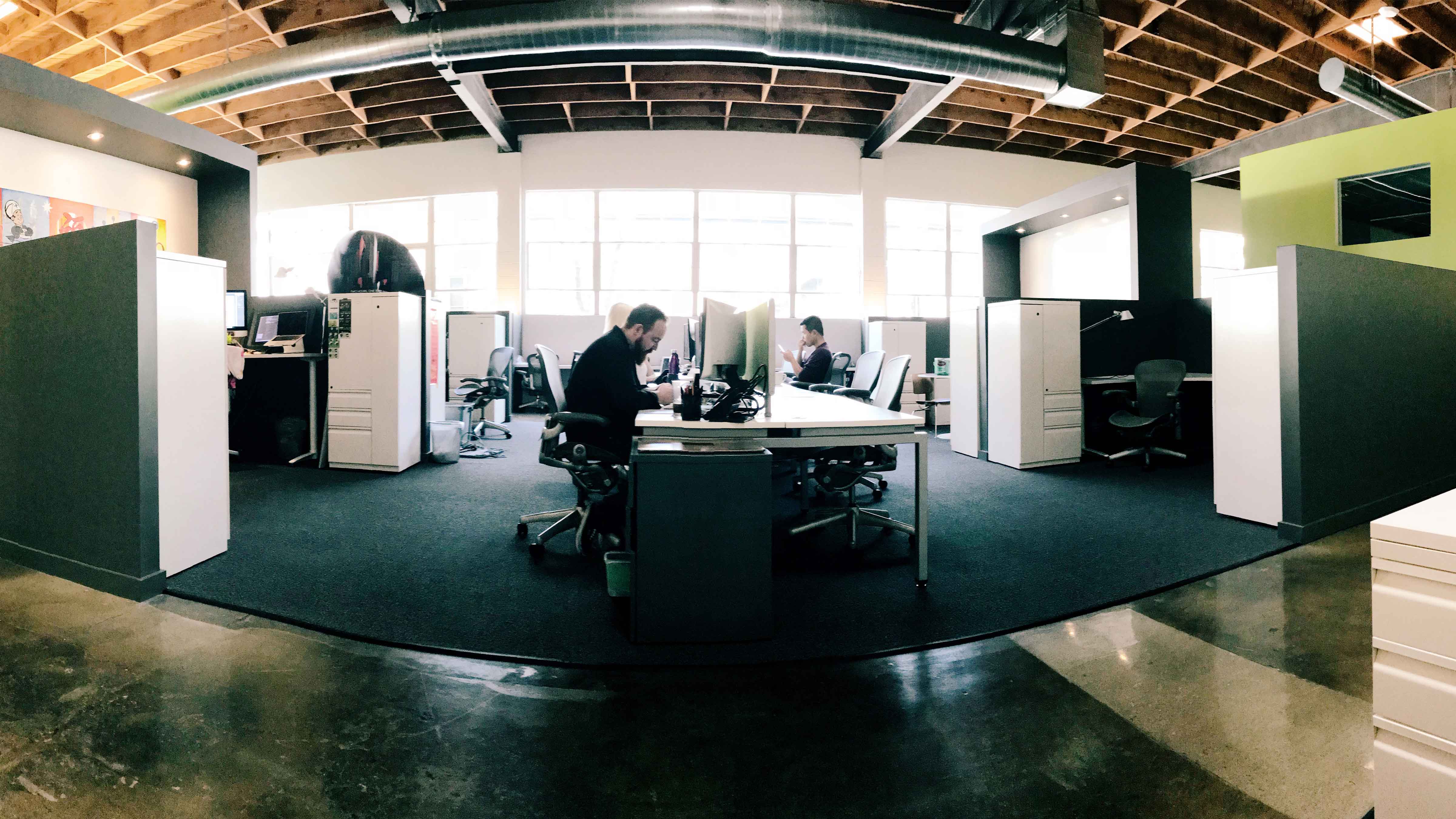 Benefits of Having an Open Workspace
It opens up communication between employees.
If you're physically closer to people, it's easier and more natural to talk to them. You might not even have to get up from your chair! We have been enjoying being able to just turn around and ask a question. It's much more efficient than having to send an email and wait for a response.
Collaboration can take creativity to the next level.
Just like anything, if you make something more convenient, people tend to do more of it. This is the same with collaboration. In an open workspace, it's very easy to swing by a coworker's desk and throw around some ideas together or ask someone for feedback and get suggestions in real time. Open workspaces give you the physical space to gather and collaborate, rather than being segmented by spaced-out desks and cubicles. Collaborating more has already inspired some really creative and innovative pieces for our clients.
Flexibility for the future.
Having an open workspace in an office makes it very easy to move things around. Whether you are adding new team members or doing some rearranging, opening up your space and filling it with modular and portable furniture make it convenient to change things up as needed.
Get to know us even better on our website. Meet the team, see our work, and look through some of the clients we are working with.